Flying Gifts
Experience the thrill of flying yourself or why not treat a friend, colleague, family member or employee to a gift that they'll remember for years.
Liverpool Flying School offers vouchers for trial flights which can be bought as gifts for birthdays, Christmas, special occasions or as corporate incentives for employees. Our vouchers provide an affordable and unique introduction to flying and are available with a range options to suit all budgets and requirements.
Please ensure you have read and accept our Terms & Conditions prior to purchase
Vouchers
Tomahawk Trial Lesson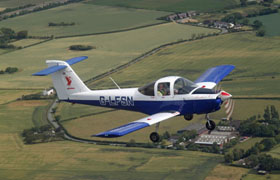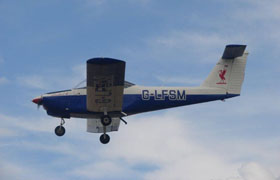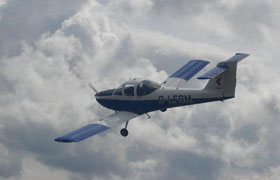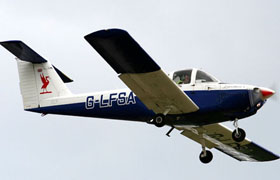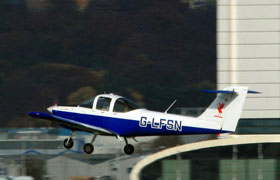 This flight will give you an initial hands-on experience flying over the Liverpool skyline as well as the Everton and Liverpool football grounds. Your instructor will brief you before the flight and demonstrate the basic function and effects of the aircraft's controls. You will be able to take control and fly the aircraft yourself whilst enjoying the sites of Liverpool.

Alternatively, why not extend your trial flight to 60 minutes as the extra airborne time will give you more hands-on flying and take you further afield, such as Blackpool, North Wales and the Cheshire Plains.
Warrior Trial Lesson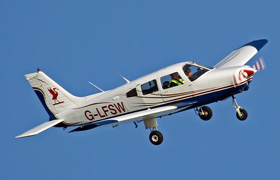 This flight has the added advantage of taking up to two extra people along who would sit behind you and take in the views while you fly the aircraft with your flight instructor. Similar to the 30 minute trial flight in the Tomahawk, your routing can take you over Liverpool's famous landmarks.

Why not extend your flight to 60 minutes and make the day even more memorable.
Introductory Flying Offer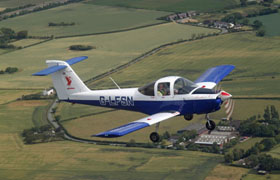 If you are considering learning to fly, take advantage of this very special offer today!

An ideal introductory package of five hours flying tuition and landing fees in a Piper Tomahawk, plus a log book, check list and temporary membership.
Click on the shopping cart to go to the checkout. There you will be able to review what you have ordered, and if happy, make payment.
FAQs
How long are the vouchers valid for?
All vouchers must be flown within 12 months of date of purchase (unless Christmas gift ‐ see terms and conditions for more details). Vouchers are non refundable but can be transferred to another person upon written request. Please note that placing a voucher for sale on any website is strictly prohibited and renders the voucher void.
How do I book my flying experience?
Once you have received the voucher, call us on 0151 448 9808 to arrange your flight. We are open 7 days a week. Please ensure that you call on the day of your booking to check if the flight will go ahead. If your flight is postponed due to weather it can be re-arranged.
Can I upgrade my flying experience?
For an additional cost and subject to availability, you can choose to upgrade your flight from a two seater aircraft to a four-seater aircraft and take one additional person along with you. Or you may want to upgrade from 30 minutes to an hour, just speak with reception ‐ to ensure upgrade it is best to do this in advance of your chosen flight day.
Do I receive anything to keep at the end of the flight?
Yes on completion of the flight you will be given a flight certificate, signed by your instructor and showing the type and registration of the aircraft flown. If you choose to continue with your flight training the trial flight can be logged.
How old do you have to be to have a flight?
Young and old can enjoy a flight ‐ there are no real age constraints ‐ as long as you are reasonably fit and well you can go flying.
You can learn to fly from the age of 14 years and these hours can be logged towards your licence. You can go solo at 16 years old and then you can apply for your licence at 17 years.
Children under 14 can have a trial flight in one of our four seater aircraft as long as they can reach the controls, are sensible and they are accompanied by a parent or guardian.